In recent years chloralkali plants became larger and larger, and more and more had to be offered on a turnkey basis.
When the contracts exceeded the personnel and financial capacities of the company, KREBS SWISS cooperated with various contractors, who then carried out detailed engineering and were responsible for the implementation of the plant.
Consequently KREBS SWISS concentrated on marketing, sales, basic engineering and supervision of commissioning of chloralkali plants.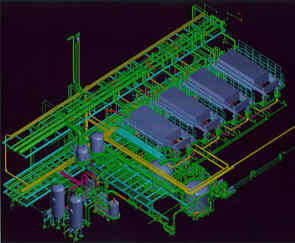 3D design of electrolysis plant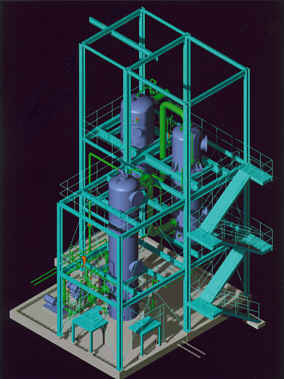 3D design of chlorine drying unit
IIn 1999 VA Tech Wabag Ltd. acquired the SALEX® technology as a complementary technology to its own salt processes.
Several projects which had been followed up by KREBS SWISS became contracts for VA Tech Wabag Ltd. and were executed by MESSO Ltd.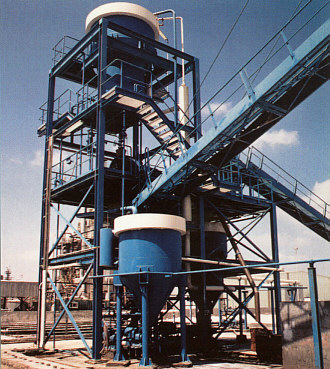 Salt upgrading unit SALEX®
Presently the rights to the SALEX® technology and its associated trade marks SOLARSALT and THERMOSALT are with Salt Partners Ltd., Zurich Switzerland.
In 2002 MESSO Ltd acquired the KREBS SWISS chloralkali technology. Again associated process specialists went to work for MESSO Ltd. ensuring the continuity of the technology. Since 2005 the operation is part of GEA Messo
AG, Winterthur Switzerland.
...the KREBS SWISS technology is still going strong!